Unfortunately, I didn't get to post this earlier today.
Good news out of the Doha Challenger Cup!
All members of the Aussie delegation have made apparatus finals at the competition-
Ashleigh Brennan
will contest beam and floor finals;
Larrissa Miller
will join her in the floor final and line up for the bars final.
Fresh from a first place pommel final qualification in Paris,
Prashanth Sellathurai
has qualified in first to the pommel final and sixth to rings.
You can see some photos of the team in action at Gymnastics Australia or at the Victorian Women's High Performance Centre page at Facebook.
Here's hoping all our Aussies equal (or better!) their rankings and bring home some hardware.
If you would like to see some videos from the recent Wild Rose Invitational, check out
this YouTube channel
.
Katie Wurth
's striking floor routine is of particular note.
Edit Friday: More good news out of Doha as apparatus finals play out - Congratulations
Larrissa Miller
for snaring a silver in the bars final behind Tan Sixin of China (5.9/13.450)!
And in news just to hand,
Prashanth Sellathurai
won pommel!
Edit Saturday: It keeps getting better and better -
Ashleigh Brennan
adds to Australia's tally with a silver on beam (13.800, a few wobbles but stayed on) and a silver on floor (5.3/13.300)!!!
Larrissa Miller
unfortunately couldn't quite keep up in the floor final and suffered a fall on her double arabian (12.150)
Thanks to Wen Shuli for finding this photo of the bars medallists: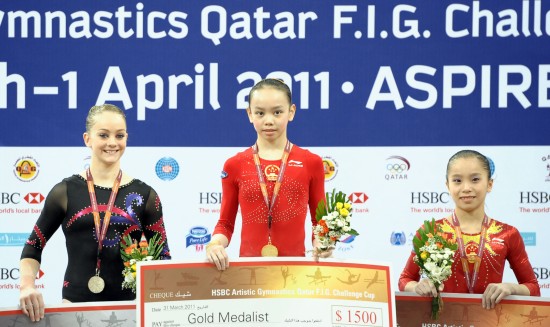 You can see Larrissa's silver-medal bars routine in the video below (02:53 in). Check the nailed dismount!