At last, at last, another Pacific Rim Championships is upon us!
Australia's gymnasts have arrived in Richmond and been training strongly. You can see some videos of the women's artistic team courtesy of Gymnastike if you click through from
here
. I'm thrilled to see Kiara Munteanu stand up her barani on beam, and just plain delighted by the prima ballerinitude that is Yasmin Collier.
There's also a video of what I'm fairly certain is Luke Wiwatowski training floor
here
and high bar
here
. I think it's the haircut that's throwing me!
The event will be livestreamed here.
Richmond is 17 hours behind Melbourne time (7pm Wednesday here = 2am Wednesday there)
Happy early easter! From Mischa Barabach and a random rabbit.
Update Sunday:
When all is said and done, we've had a lot of fun.
Australia didn't walk away from Richmond with the swag of medals it hoped for, but there was certainly an impressive effort put out on the floor.
An absolutely huge "Onya!" has to go to our gold medallists: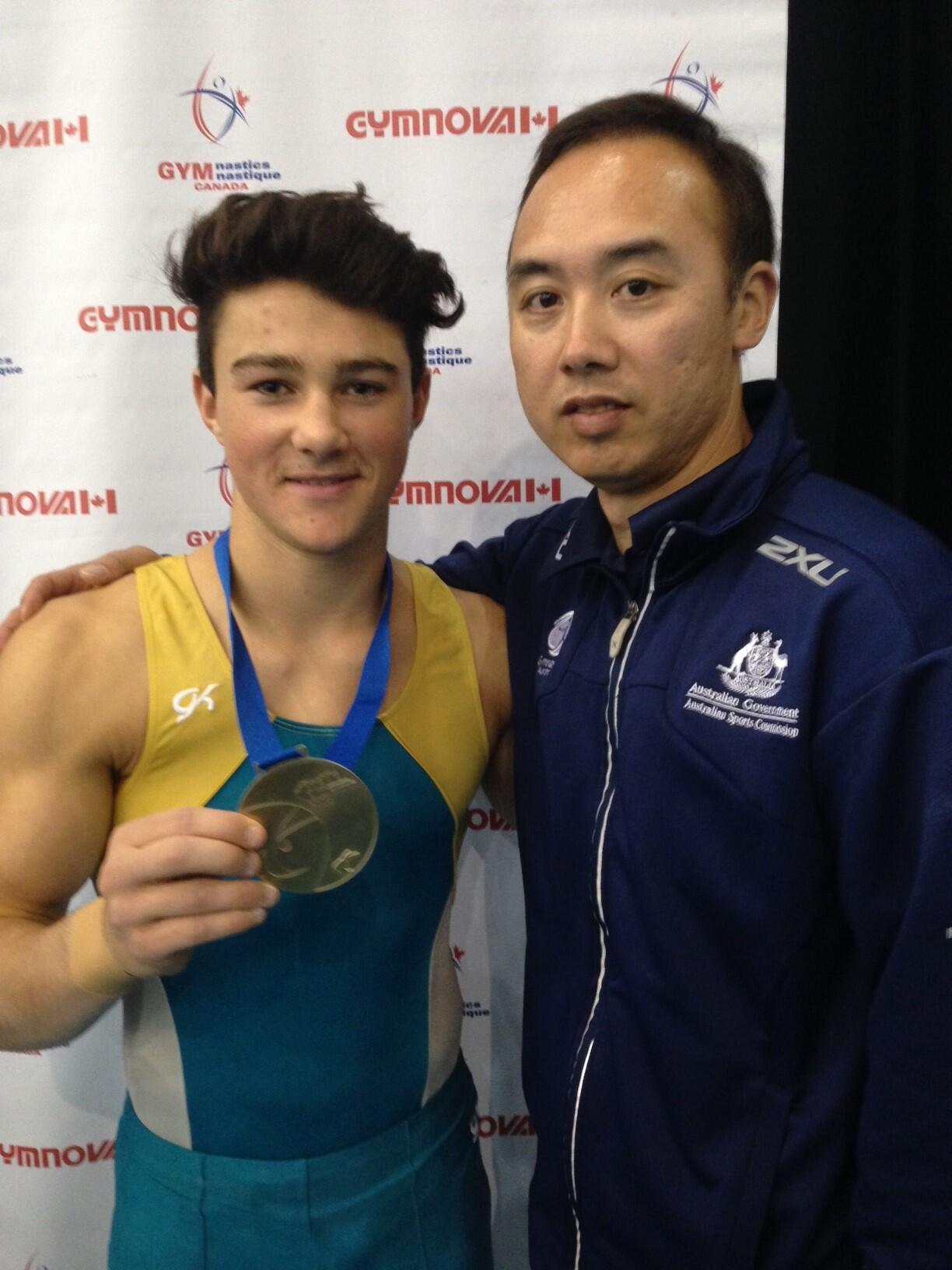 - Clay Stephens, junior men's vault
- Abbie Watts and Jayden Cooney (yes, sister of Ashley!), junior women's synchro trampoline
As well as our minor, but by no means insignificant, medallists:
- Georgia Rose-Brown, senior women's uneven bars (bronze)
- Men's trampoline team (bronze)
- Hugh McConnell and Dominic Clarke, junior men's synchro trampoline (silver)
- Dominic Clarke, junior men's individual trampoline (bronze)
Unfortunately Australia came up empty-handed in rhythmic gymnastics, but commentators had very encouraging and admiring words for our ladies in their coverage. I am currently listening back to them gushing over the start of Danni Prince's ribbon routine!
Gymnastike caught up with
Georgia Rose Brown
,
Kiara Munteanu
and
Peggy Liddick
after the women's team/AA round of competition. Smiles all round!
A brief post-meet interview with golden boy Clay can be seen
here
.
I'll update other media as it comes to hand.
A reminder that footage from the meet's livestream can be viewed
here
.