or "Naazmi Naazmi Johnston" for those of you who've seen Guys and Dolls...
Good luck
to our rhythmic gymnastics rep who will fly the flag for Australia tonight in Beijing!
She's looking for a placing above 19, which would better Danielle LeRay's finish from Sydney 2000.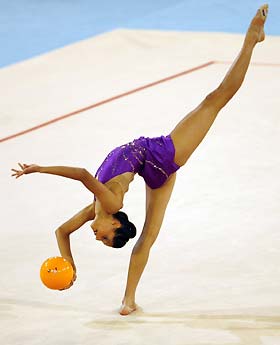 (Oh my - it's pouring outside my house and it's pouring in Beijing over the poor 20km walkers!)
Speaking of drenched things, IG has put up an
interview
with Australian artistic gymnast turned diver, Alex Croak. Croak, along with team-mate Melissa Wu, has made the semifinal in the 10m platform after qualifying a VERY impressive 4th.
(ETA- Eeeeeek, bad opening dive for Alex. Buck up, chuck!)