Woah, staying up til 2am liveblogging is NOT the best idea.
G'morning, starshines. I am still reeling from last night's emotional madness.
Anyway, woke up glad I didn't sleep through Lauren's subdivision. Here's where we are at so far.
Subdivision 5: Lauren Mitchell
Mitchell (AUS) UB Jaeger, toe on 1/1, double front off.
and
Lauren Mitchell AUS--on Beam--ff ff layout, aerial walkover to punch front, ff ff double pike--6.1-8.1/14.20 For 9th place so far!
Mitchell FX double Arabian, piked full in, double pike.
(from The All Around. No indication of errors on FX, so that's good, right?)
oh wait...
Aussie Laren Mitchell looking great on floor - super first tumble, arabian double front, very high. Step out later though. 14.050 rank 5
VT: Lauren (Baitova) gets 14.475 to go into 2nd overall w 56.675!!


Later..
All Around after qualifying: 1. Bross USA--57.40, 2. Porgras ROM--57.30, 3.Mitchell AUS--56.675.

Her beam score got raised to 14.4 after a score protest.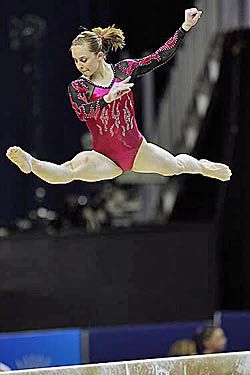 !!!!! Top 3 overall!!! Could we see a repeat of Melbourne 2005? Hang in there, Lauren, you're in the mix!
Meanwhile... (quite unofficially)
Larrissa goes into UB final ranked 5th! Lauren equal 5th into beam final and 5th into floor final! And Lauren is UNQUESTIONABLY into the all-around final!
Here we go....
1 153 BROSS Rebecca USA 57.400 (1)
2 127 PORGRAS Ana ROU 57.300 (2)
3 17 MITCHELL Lauren AUS 56.675 (3)
4 36 DENG Linlin CHN 56.350 (4)
5 151 SLOAN Bridget USA 56.075 (5)
6 133 KURBATOVA Ekaterina RUS 55.950 (6)
7 94 TSURUMI Koko JPN 55.925 (7)
8 37 YANG Yilin CHN 55.500 (8)
9 138 KAESLIN Ariella SUI 55.450 (9)
10 132 SEMENOVA Ksenia RUS 54.900 (10)
11 56 IZURIETA Ana Maria ESP 54.750 (11)
12 63 DUFOURNET Youna FRA 54.375 (12)
13 126 TAMIRJAN Anamaria ROU 54.250 (13)
14 104 GARCIA RODRIGUEZ BLANCAS Elsa MEX 54.225 (14)
15 62 MOREL Pauline FRA 54.200 (15)
16 68 BUI Kim GER 54.175 (16)
17 92 GALANTE Paola ITA 54.150 (17)
18 34 ROGERS Brittany CAN 54.050 (18)
19 65 WING Rebecca GBR 53.875 (19)
20 64 DOWNIE Rebecca GBR 53.775 (20)
21 95 UEMURA Miki JPN 53.325 (21)
22 120 KIM Un Hyang PRK 53.125 (22)
23 27 KUROIWA YAMAMOTO LEAL Bruna BRA 52.850 (23)
24 142 WAGNER Veronica SWE 52.750 (24)
****************************************
VT
1 154 WILLIAMS Kayla USA 14.812
2 121 HONG Un Jong PRK 14.787
3 134 MYZDRIKOVA Anna RUS 14.450
4 138 KAESLIN Ariella SUI 14.325
5 133 KURBATOVA Ekaterina RUS 14.225
6 63 DUFOURNET Youna FRA 14.212
7 34 ROGERS Brittany CAN 13.975
8 104 GARCIA RODRIGUEZ BLANCAS Elsa MEX 13.862
UB
1 35 HE Kexin CHN 15.975
2 153 BROSS Rebecca USA 15.050
3 122 CHA Yong Hwa PRK 15.025
4 94 TSURUMI Koko JPN 14.775
5 16 MILLER Larrissa AUS 14.650
6 151 SLOAN Bridget USA 14.600
7 127 PORGRAS Ana ROU 14.575
8 93 LICCHETTA Serena ITA 14.200
BB
1 127 PORGRAS Ana ROU 14.850
2 120 KIM Un Hyang PRK 14.775
3 36 DENG Linlin CHN 14.450
4 152 HONG Ivana USA 14.400
5 17 MITCHELL Lauren AUS 14.400
6 94 TSURUMI Koko JPN 14.375
7 37 YANG Yilin CHN 14.375
8 91 PREZIOSA Elisabetta ITA 14.275
FX
1 134 MYZDRIKOVA Anna RUS 14.500
2 38 SUI Lu CHN 14.275
3 127 PORGRAS Ana ROU 14.175
4 67 TWEDDLE Elizabeth GBR 14.075
5 17 MITCHELL Lauren AUS 14.050
6 39 GIL ORTIZ Jessica COL 14.050
7 36 DENG Linlin CHN 14.000
8 153 BROSS Rebecca USA 13.950